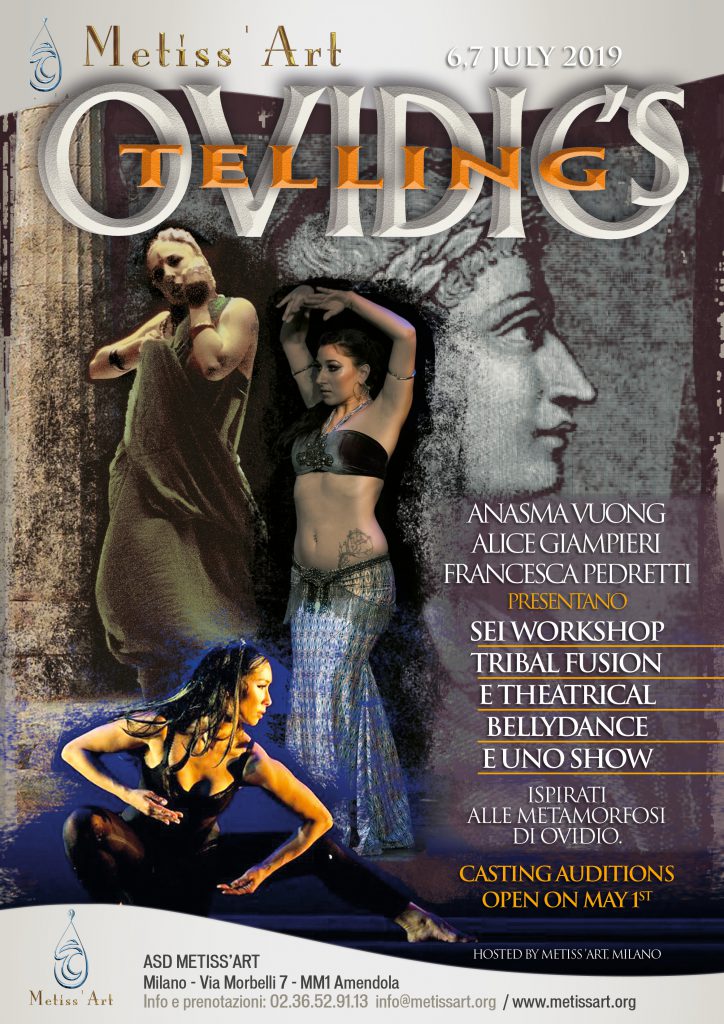 Il tema del nostro viaggio è il poema epico-mitologico di Publio Ovidio Nasone Le Metamorfosi che in 11.995 versi raccolgono e rielaborano più di 250 miti greci: Il progetto prevede un totale 15 ore di seminario con le danzatrici Anasma Vuong, Alice Giampieri e Francesca Pedretti, che si svolgeranno tra sabato 6 Luglio e domenica 7 Luglio presso lo studio Metiss' Art a Milano.
Ognuna di loro creerà in 5 ore, un'opera in danza, nei linguaggi della Tribal Fusion, Theatrical Bellydance e Tribal Bellydance Emozionale® ispirata alle 'Metamorfosi' insieme alle danzatrici che parteciperanno ai laboratori. I workshop sono aperti a tutte le danzatrici.
Domenica sera il progetto si concluderà con la performance, che vedrà sul palco le tre leaders con il corpo di ballo composto dalle danzatrici selezionate nel casting.
Iscrizioni aperte dal 1 Marzo
Dall' 1 Aprile all' 1 Giugno 2019 sarà possibile iscriversi al Casting per partecipare alla performance.


Prezzi
Early Bird dal 1 al 30 Aprile solo sul pacchetto 5 h
WS 5h 90€ EB, 110 oltre
WS 2 ore 45€
WS 3 ore 60€
Info
ovidiostelling.milano@gmail.com
* * *
Ovidio's Telling – Tribal Fusion Workshop and Performance
The topic of our journey is the Publio Ovidio Nasone's epic-mythological poem The Metamorphoses, which in 1195 verses collect and re-elaborate more than 250 Greek myths: Ovidio's Telling includes a total of 15 hours of workshop with the dancers Alice Giampieri, Anasma Vuong and Francesca Pedretti, which will take place between Saturday 6 July and Sunday 7 July, in Metiss' Art Studio, Milano.
Each of them will create in 5 hours, split into 2 workshops of 3 and 2 hours, a danced opera, Tribal Fusion, Theatrical Bellydance and Tribal Bellydance Emozionale® language, inspired by the 'Metamorphoses', with the dancers who will participate in the seminars. The workshops are open to all dancers.
Sunday evening the project ends with the performance, which sees on stage the three leaders with their selected dancers.
Registration open from 1 March
From 1 April to 1 June 2019 opening auditions.

Prices
Early Bird from 1 to 30 April only on the 5h package
WS 5h 90 € EB, 110 over EB
WS 2 hours € 45
WS 3 hours 60 €
Information
ovidiostelling.milano@gmail.com